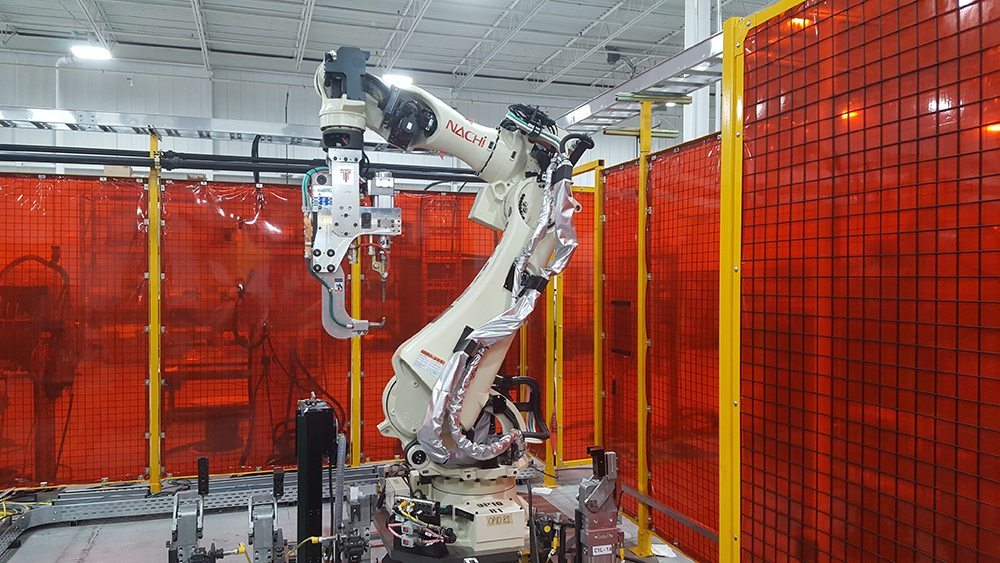 Nachi Robotic Systems, Inc. continues to lead the industry in development of advanced robotic spot welding solutions, by focusing on making higher quality welds faster than ever before. Using advanced integration technology, all welding parameters and process critical data are programmed directly through the robots full color touch screen teach pendant.
NRS dominates the robotic spot welding industry by:
Using advanced application software to simplify weld schedule programming
Performing in process quality validation
Maximizing throughput
If you are looking for high performance spot welding robotic technology, click here.
They continue developing new welding solutions to provide better and faster welds. Nachi's latest spot welding technology is integrated to the industries fastest industrial robots, the Nachi SRA Series. SRA series robots provide the industry's most advanced spot welding controls and software functionality. Utilizing fully integrated weld controls, all spot welding data can be directly input and monitored through the robot's teach pendant. Create detailed weld schedules unique to your application and material types with ease using the full color touch screen graphical spot welding user interface. Nachi Robotics' SRA series reduces spot welding times by 30% over previous models through improved motion control, improved arm rigidity, vibration suppression, and acceleration performance.
Nachi Robotics SRA robots also offer A-Trac cable management systems to simplify:
Routing of power cables
Pneumatic lines
Water hoses
Signal cables to spot welding guns
A-Trac packages all spot welding utilities neatly to minimize the chance of snags or crashes with peripheral equipment and work cell objects.