Expansion of the collaborative robot market
Collaborative robots are equipped with a safety function that detects and stops human contact, eliminating the need for a safety fence, making it possible to save space and build flexible production lines. On the other hand, in general, collaborative robots operate at slower speeds and are less productive than human and non-collaborative robots, so both safety, high speed and further improvement of accuracy are issues.
Our Initiatives
We are expanding the lineup of high-speed, lightweight compact robots "MZ Series", and in March 2022, we launched the "MZ F Series", small robot that meets the needs for even higher speed and precision, contributing to the improvement of productivity at manufacturing sites.
Utilizing the design cultivated in the MZ series, we have introduced the CMZ05, a small collaborative robot with dramatically improved safety and operability, while maintaining high-speed and high-precision performance. With performance far exceeding that of conventional collaborative robots, we will expand the fields of application of robots and incorporate automation needs.
Outline of the new product
Features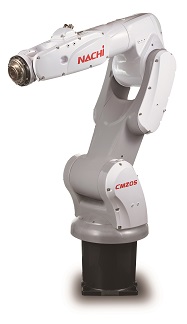 Top-class high-speed and high-precision collaborative robots
With its lightweight and highly rigid design cultivated through the development of small robots, it achieves class-leading high speed and high accuracy as a collaborative robot, improving customer productivity.
・Maximum speed: 1,000mm/sec (collaborative) 2,500mm/sec (non-collaborative)
・Position repeatability: ±0.02mm
Excellent safety
Safety is ensured by meeting international safety standards* and by designing a shape that minimizes the risk of being pinched. Without safety fences, human-robot collaboration can be realized.
*Acquired ISO013849-1/ISO10218-1 and ISO/TS15066 certification.
Responding to diverse sites
By adopting a hollow wrist structure, wiring and piping on the outside of the robot body are not required, reducing the risk of interference with peripheral devices. In addition, it is equipped with a dustproof and drip-proof function (equivalent to IP67) as standard, and can be used in environments where dust and water droplets are scattered.
Product Specifications
| | | |
| --- | --- | --- |
| ・Maximum payload capacity | : | 5kg |
| ・Maximum reach | : | 927mm |
| ・ Body weight | : | 53kg |
Inquiries about new products