Description
MZ50F Dimensions and Operating Range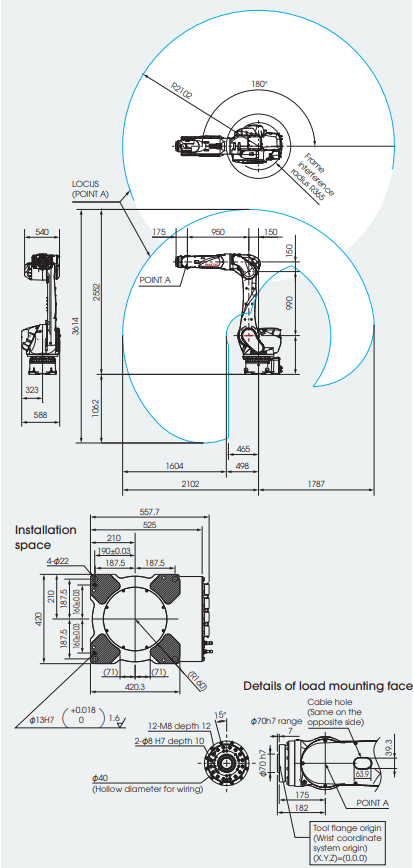 (*1) The specifications are subject to changes without notice.
(*2) In case that an end user uses this product for military purpose or production of weapon, this product may be liable for the subject of export restriction stipulated in the Foreign Exchange and Foreign Trade Act. Please go through careful investigation and necessary formalities for export.
MZ50F General Specifications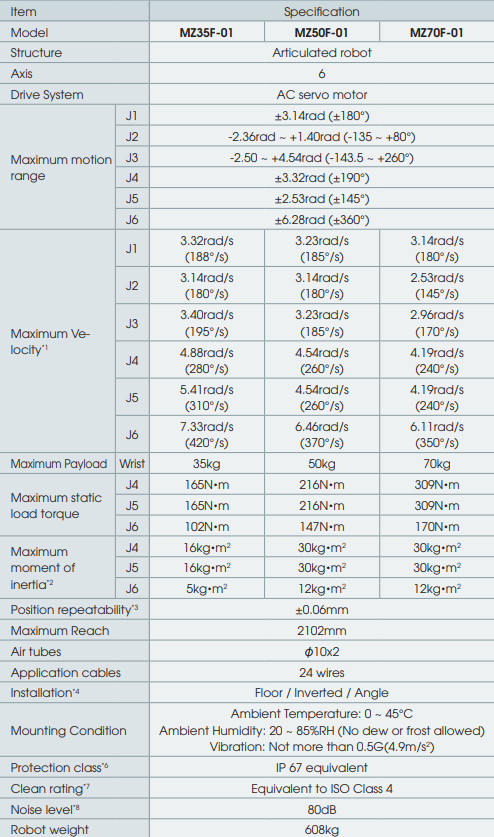 1[rad]=180/π[°], 1[N・m]=1/9.8[kgf・m]
* Specifications are subject to change without prior notice for technical changes.
* Explosion-proof version is not available.
The maximum velocity in the chart is the maximum value.
It will change depending on the operation program and the wrist load condition.
Depends on wrist load condition.
JIS B 8432 conformance.
Motion range is limited when wall mount and tilted mount. (Example; axis 1 motion range
is ±30° in case of wall mount)
Using at 1000 m or lower sea level.
Ambient temperature has limitations when allowable altitude is exceeded.
Fluids that cause the deterioration of sealants, such as gasoline-based cutting fluids,
chlorine, alkali, acids, and organic solvents, cannot be used. The wire-harness portion is
IP65 equivalent, and the robot controller is IP20 equivalent.
This is based on an internal assessment in accordance with ISO 14644-1.
To ensure a cleanliness, install the robot in a down-flow type cleanroom.
The robot's packaging is not dust proof. Before bringing the robot into a cleanroom, you
must clean the robot by wiping it off or by removing dust and fine particles from it.
Robot noise is A-weighted equivalent sound level measured under "JIS Z 8737-1" (ISO
11201) with maximum payload and maximum velocity.