Description
Benefits & Features:
SRA-H Advanced Hollow Arm Design

Hollow arm desing neatly packages all pneumatic, power, and servomotor cables.
Eliminates the need for external dress packages
Permits extremely accurate offline programing and simulation studies
Internal dress eliminates cable snags with peripheral equipment
Improved cable life minimizes maintenance requirements
Improved Productivity

High speed gun motor control for fast open / close
High acceleration SRA-H robot for quickest movement between welds SRA-H robots are the world's fastest in their payload class
      Extensive product line

      SRA-H comes in various payloads from 100kg to 220kg
      Standard floor mount models, invert mount model, long reach models over 3 meters.
      New hollow arm series for internal dress of spot welding utilities provides extra protection and minimized stress for utility lines (cooling water, weld power, signals, servo gun cables)

Improved Weld Quality

Pressure calibration up to 10 points for more accurate pressure through the spot welding range
Nachi's integrated spot weld timer AC version available now, DC version from Jan-2014.  Full programming from the robot teach pendant, weld results storage for traceability, full integration for fastest possible communication.
 Spot weld solutions for aluminum parts

Long tip life between dress cycles (>400 welds)
---
SRA100HB General Specifications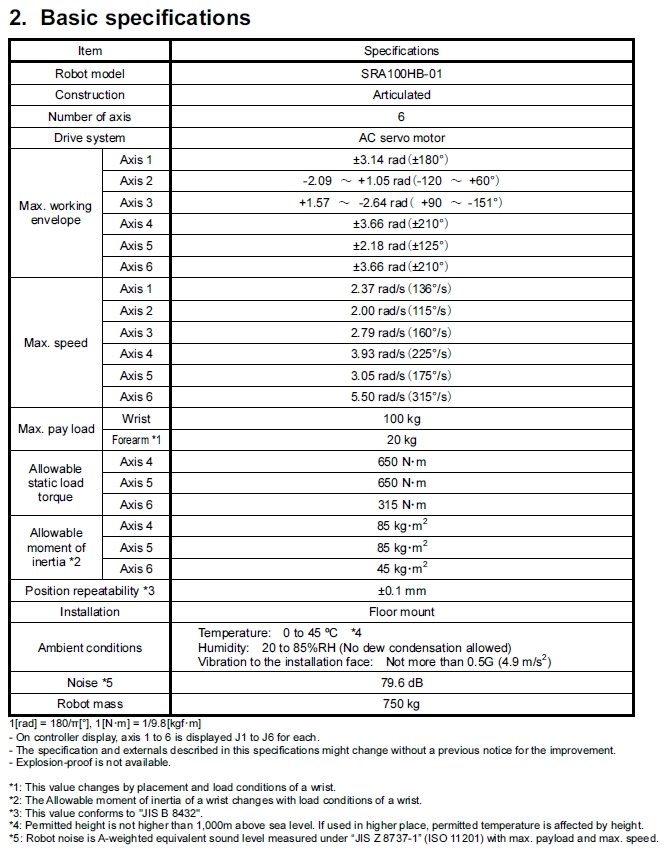 ---
Robot Dimensions and Working Envelope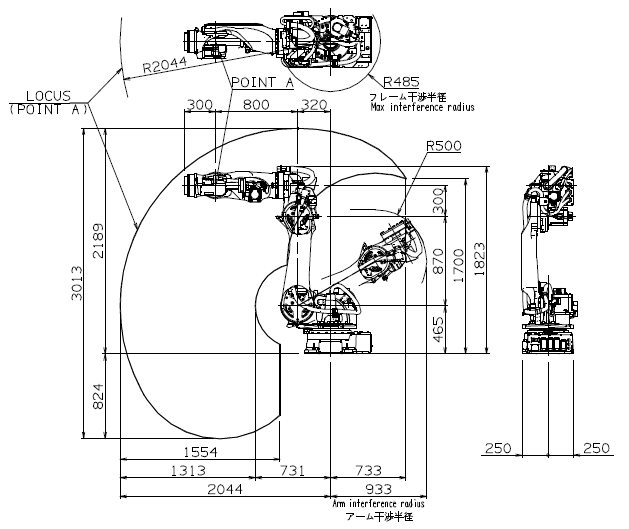 ---
Faceplate Hole Pattern for Mounting End of Arm Tooling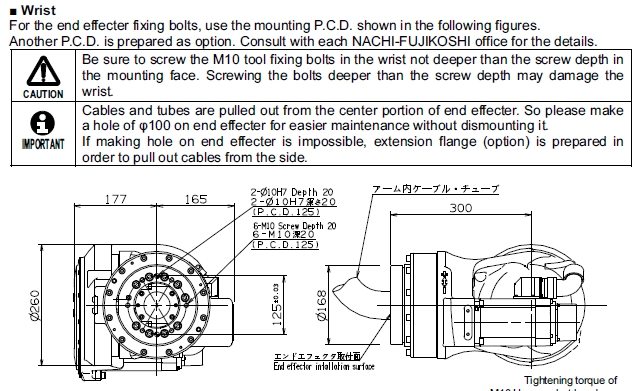 ---
Baseplate Mounting Information and Robot Footprint